Welcome back to a new challenge here at Come and Get It. A big thank you to those of you who entered our last challenge! There were so many lovely entries, we all enjoyed looking at your fabulous projects and hope you will join us again for our new challenge.
Our theme for you this week is
winner gets 4 digital images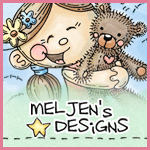 Here are the cards from our lovely designers:
Birthday Cake Mouse
Shell
using
Meljen's Designs Little Possum
Lynne
Meljen's Designs
We look forward to seeing what you create!